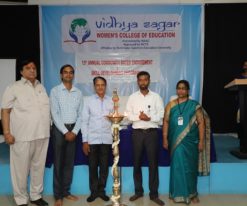 Vijay Raghavan Chief Editor, Rajasthan Pathrika, Chennai was the chief guest of Inauguration.
First Aid Training Programme was conducted and the resource person was Sri. S.S. RamadassHony. Secretary& Lecturer in First Aid, St.John Ambulance, Chennai.
Community Based Programme was conducted and Mrs. Sridevi, V.A.O, AllapakkamPanchayat, Chengalpattu was the chief guest.
Awareness Programmes were conducted on civic sense.
P.C. Naga Subramani, Zonal Co-ordinator, Youth Red Cross, TNTEU, Chennai was the chief guest of the valedictory function.