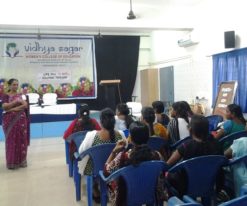 On 07.08.2018 morning the first session was conducted on the topic "Stress Coping Management". Our College Faculty Mrs. T. Malarkodi, Assistant Professor of Commerce leaded the session. She emphasized on the Techniques & Methods to be adopted to manage the stress and she also added that how there techniques can be inculcated in the classroom atmosphere.
On 09.08.2018 morning the second session was conducted Mrs. M. Revathy, Assistant Professor of Computer Science in the topic "Power of Positive Thinking". She highlighted the characteristics of Positive Thinkers and the Benefits of Positive Thinking.
The third session of Bridge Course was conducted on 10.08.2018 morning.Mrs. B. Jayalakshmi, Assistant Professor of Physical Science spoke on "Importance of Communication Skill". In this session she explained the importance of Communication skill, the techniques to develop communication skills among the students and she gave some ideas to improve communication in day to day life.
On 14.08.2018 the fourth session was conducted by Mrs.A. Radha, Assistant Professor of Biological Science in the topic "Time Management". She spoke on what is Time Management, Need, uses and benefits of Time Management. She also gave some tips to manage the time beneficially in our day to day life.
The fifth session was conducted on 16.08.2018 forenoon in the topic "Thoughts of Happiness". The keynote speaker was Mrs. K. Vijaya, Assistant Professor of History. She highlighted on the importance of Happiness, different ways to spread happiness and how to keep our surrounding happy.
On 17.08.2018 forenoon the sixth session was conducted by Mrs.R.Sumathi, Assistant Professor of Tamil on the topic "Motivation". She spoke on Motivation in the Teaching and Learning, Approaches in Motivation, Factors related to Motivation and the Benefits of Motivation.